Christ is the heart of every lesson!
CEF Bible lesson series offer a systematic approach to Bible teaching. As with all our curriculum, we seek to help children understand God's big story of redemption portrayed in the Bible. Though the lessons may focus on key biblical characters, we want the children to realize that God is the hero of every story!
There are three main components that together teach the concepts of each lesson: Bible lesson, memory verse, and Wonder Time. Occassionally a fourth required component, the Gospel spotlight, is taught. CEF curriculum writers chooses the best suited type and order for each week's lesson plan.
Below are some digital segments for you to see. If you'd like to learn more or see an actual curriculum series set in-person, please contact us.
How to Order the Materials?
Option 1: Set up Direct Purchase with CEFPress.com
Option 2: Call 800-748-7710 (Save 15% with Promo Code: CA075)
Option 3: Hassle FREE! Partner with CEF and we'll take care of the ordering for you!
CEF San Gabriel Valley Chapter
4054 E. Live Oak Avenue
Arcadia, CA 91006
(626) 445-5810
[email protected]

📦 Please allow 2-3 weeks for materials to arrive after you order them.
📚 Remember that you also need preparation time with the curriculum.
Exciting and New!!! CEF Curriculum in Chinese is now available in downloadables from CEFPress.com. Purchase instructions is the same as the English/Spanish curriculums. Feel free to contact us if you require any assistance. 中文教材訂購諮詢電話 (626) 445-5810
2022-2023 School Year Curriculum
CEF Good News Clubs around the world are teaching the theme of "Reigning" in the upcoming school year.
Four 6-Week Lesson Series
Each series includes five or six lessons based on a theme, character or book of the Bible. Biblically sound Gospel presentations and growth applications are built into each lesson. Resource Packs include many tools to enhance your teaching and extend your teaching time: printed out memory verse visuals, Word-Up cards , the main truth of the lesson, resource booklet with review games, reproducibles and mission teaching.
Copyrighted ©2017
*Available in Chinese
Copyrighted ©2018
*Available in Chinese
Copyrighted ©2018
*Available in Chinese
Joy To The World
Christmas Party
The Greatest Valentine
Valentine Party
Because God Loves You
Easter Party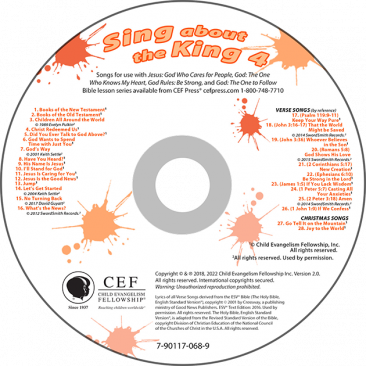 Sing about the King 4
Music CD
*If you're not using PPT in your teaching, song visuals will need to be purchased separately.
Wanna know more about CEF's Quality Teaching Materials?
Ask us about how CEF could help your children's ministry.